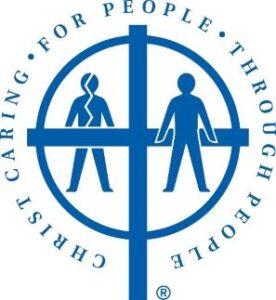 STEPHEN MINISTRY
What Is Stephen Ministry?
Stephen Ministry is a ministry in our congregation in which trained and supervised laypeople, called Stephen Ministers, provide one-to-one Christian care to individuals facing life challenges.
Who Is Involved?
Stephen Leaders are the ones who oversee and direct our Stephen Ministry. They recruit, select, train, organize, and supervise our Stephen Ministers; identify people in need of care; and match them with a Stephen Minister. We have 3 Stephen Leaders: Donna Burgess, Paula Chouinard, and Donna Zabloudil.
Stephen Ministers are lay caregivers. They have engaged in high-quality training in Christian caregiving, including topics such as listening, feelings, boundaries, and assertiveness. We currently have 10 active Stephen Ministers: Bill Ahlin, Dennis Covill, Jean Covill, Wendy Jackson, Laurie Jongsma, David Newton, Barbara Saras, Marc Therrien, Patricia Wlasuk and Donna Zabloudil.
Care receivers are the recipients of Stephen Ministers' care. They are people from our church or community who are experiencing grief, loss of a job, divorce, loneliness, illness, or other life difficulties. Stephen Ministers meet with their care receivers once a week for about an hour for as long as the care receiver needs it.
What Do Stephen Ministers Do?
Stephen Ministers are caring Christians who listen, understand, accept, and pray for and with care receivers who are working through a difficult time in life.
Are Stephen Ministers Counselors?
Stephen Ministers are not counselors; they are trained lay caregivers. Their role is to listen and care, not to give advice. Stephen Ministers are also trained to recognize when a care receiver's needs fall outside what they are equipped to provide—at which point they help connect the care receiver with the appropriate outside resource.
Why the Name Stephen?
The name Stephen comes from St. Stephen, who was the first layperson commissioned by the apostles to provide caring ministry to those in need (Acts 6).
How Can Someone Receive Care from a Stephen Minister?
Donna Burgess is our Stephen Leader who coordinates referrals. If you or someone you know could benefit from the care of a Stephen Minister, you can talk to Donna Burgess or any of our other Stephen Leaders. Any of our Stephen Ministers would also be happy to help you through the process. (If you want to talk about Stephen Ministry for someone else, make sure you get his or her permission first.) You can contact Donna Burgess at 603-988-6845 to speak to a Stephen Leader.